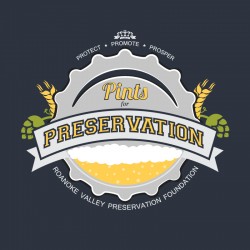 The Roanoke Valley Preservation Foundation is excited to introduce our new series of events, the Preservation Pub Talks! Over the course of the year, we are hosting a series of short talks in bars and restaurants around the Roanoke Valley, focused on historic preservation issues impacting our community. Admission is free, so come join us for drinks and conversation!
Make sure to check back with us for updates on upcoming Talks as we add more throughout the year! In the meantime, enjoy these pictures from our first ever Pints for Preservation!
Our second Preservation Pub Talk will take place on Tuesday, February 21 at 7:00pm, at Taaza in Southwest Roanoke! Current RVPF Board member and Executive Director of Restoration Housing, Isabel Thornton, will give a talk tilted "Keeping Preservation Real – Preserving Authentic Communities as well as Buildings."
Check out our Facebook event page here!
We look forward to seeing you there!
Upcoming Pub Talks!
If you have an idea for a Pub Talk, let us know at rvpf.coordinator@gmail.com. And if your idea is used, we'll buy your drinks for the night.
Past Pub Talks
Lessons Learned from Greenfield, with DHR archaeologist Tom Klatka
Thursday, Sept. 15 at 7pm at the Town Center Tap House in Daleville