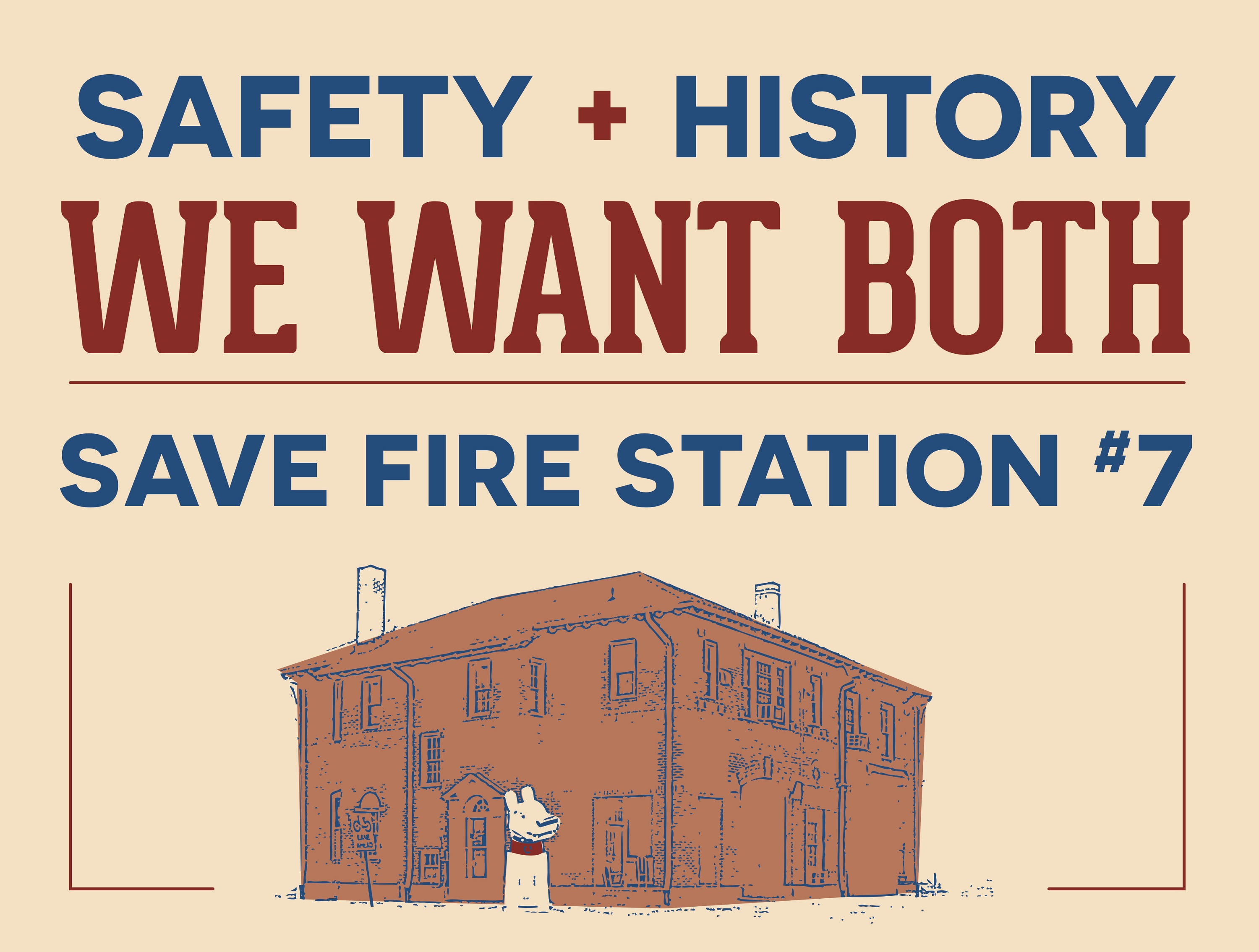 Roanoke Valley Preservation Foundation is advocating to save Fire Station No. 7 in Grandin Village and there is a narrow window of opportunity for the City of Roanoke to change direction before architects move forward with the current concept which requires demolition of this historic station. What can you do? Come to the Grandin CoLab on Saturday, March 24 at 10am for a special presentation; write a letter, email, or call members of City Council to express your views!
Our primary objective in this effort is to convince the City to at least consider alternatives to demolition of the station. In no way do we want to compromise public safety – we feel strongly that a better fire station can be accomplished without demolishing the historic structure. Our message is "Safety+History – We want Both."
We have two alternative concepts developed by a registered architect that demonstrates this can be done without sacrificing public safety or costing additional taxpayer money. Keep reading to see our advocacy goals and objectives, as well as a timeline of what RVPF has done over the past two years to change the minds of City leadership.
GOALS:
Hold community meeting to determine REAL support for saving the station (not just clicking on an online petition)

Share with the public the 2 alternative plans that demonstrate the historic station can be preserved while providing for a state-of-the-art facility without costing the additional taxpayer money.

Make City Council aware of alternatives and public support through the distribution of yard signs, window statics, and emails directed to Council members.
LONG TERM OBJECTIVE:
Convince the City to integrate historic preservation into their planning process. This can be accomplished through developing a process through which the City
identifies historic resources through survey and National Register listings

maintains historic resources through routine maintenance

thoroughly considers the impact on historic resources when planning for infrastructure improvements

provides for the protection of historic resources in perpetuity before disposing or selling them for private use and/or ownership
BACKGROUND / TIMELINE:
1922 – Fire Station No. 7 built as suburbs developed.
2002 – Grandin Road Commercial Historic District listed on the Virginia Landmarks Register and National Register of Historic Places with Fire Station listed as a contributing building.
2009 – City identifies stations for upgrades, assesses sites, and unsuccessfully applies for federal money.
2016 – Spectrum Design prepares "Site Selection and Conceptual Design Study for 3 Stations" (No. 7/Raleigh Court, No. 8/South Roanoke and No.3 / Williamson Road).
March 2016 – Roanoke Valley Preservation Foundation representatives meet with Chief Hoback and tour Fire Station No. 1
August 2016 – Roanoke Valley Preservation Foundation representatives tour Fire Station No. 7 with City architect and RCCL members Mary Dykstra & Kit Hale. RVPF informed the City that we would not accept demolition of the station without them fully demonstrating to ust hat it could not be reused.
May 2017 – RVPF writes letter to City Council re city-owned historic structures
Fall 2017 – City issues Request for Proposal for design services for new station
Winter 2017 – Councilman John Garland questions plans to replace / demolish Fire Station No. 7
Jan 2018 – RVPF writes City Council requesting they consider alternatives to demolition.
Jan 2018 – RVPF writes Op/Ed piece for The Roanoke Times.
Jan 2018 – Mark Lynn Ferguson launches online petition through www.change.org (5100+signatures)
Feb 15, 2018 – Representatives from RVPF and the Virginia Department of Historic Resources meet with City staff and Chief Hoback.
Feb 20, 2018 – RVPF appeals to City Council to study alternatives, Council declines.
March 2018 – Bill Huber, registered architect & former partner of Spectrum Design develops two alternative concept for the station.
March 9, 2018 – RVPF nominates Fire Station No. 7 to Preservation Virginia's Most Endangered Sites list.
March 14, 2018 – Representatives of RVPF and City Councilman John Garland meet with City Manager Cowell & Assistant City Manager Stovall to share alternatives developed by Bill Huber.
March 15, 2018 – Representatives of RVPF meet with the Old Southwest Nieghborhood group to request support; and attend Raleigh Court Neighborhood Association Forum to question Candidates for Council their views on retaining Fire Station No 7.
March 19, 2018 – RVPF attends Council Meeting to update City Council on alternative concepts.
March 20, 2018 – RVPF meets with editorial staff and reporter at The Roanoke Times.
March 21, 2018 – RVPF meets with local firefighter.
March 21, 2018 – Preservation Virginia submits Op/Ed to The Roanoke Times.
March 24, 2018 – Community Meeting planned at the Grandin CoLab at 10am to share alternative concepts with the public.
PARTNERS
Mark Lynn Ferguson, "the Revivalist" is a Roanoke native who writes a blog in his spare time on Appalachia. After recently moving back to Roanoke, he was surprised to learn that the City planned to demolish Fire Station No. 7. After contacting RVPF, he created an online petition to save the station on www.change.org. The petition has gained more than 5,100 signatures with the majority of these coming from residents all over the City of Roanoke.

Bill Huber is a registered architect and president of William Huber Architects, a Marion-based firm. Bill has 43 years' experience as an architect with a focus on historic preservation. As a former partner at Spectrum Design in Roanoke, Bill was involved in the design for the new Fire Station No. 1.
MEDIA LINKS:
http://www.wdbj7.com/content/news/Roanoke-Valley-Preservation-Foundation-to-host-event-to-rally-support-to-save-historic-building-477690803.html
https://www.wsls.com/news/virginia/roanoke/the-fate-of-fire-station-blazes-on-with-two-new-proposals
http://www.roanoke.com/news/local/roanoke/preservationists-make-another-pitch-with-a-plan-to-save-roanoke/article_0211cfcf-848d-5247-95e5-7aa92d0f2351.html
http://www.roanoke.com/opinion/letters/letter-disappointed-in-council-s-decision-to-demolish-fire-station/article_51a4bbcd-478c-5bcd-83e8-514f3e080d83.html