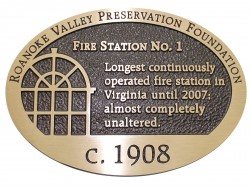 Program Description:
Historic buildings in the Roanoke area can now be recognized under a new Historic Plaque Program! RVPF hopes the program will not only bring 'history to the street' for those passing by, but also serve to 'brand' historic buildings as a desirable location for tenants thereby increasing property values and occupancy.
Historic Plaque Program Application Form
Plaque Description:
Plaques are 10" x 7" cast bronze ovals with brown pebbled backgrounds forged by Paul W. Zimmerman Foundries (responsible for casting most National Register of Historic Places plaques across the country). Plaque text will include the building's historic name, brief description, and construction date. To view a fabricated plaque, please visit Fire Station No. 1, the Virginia Museum of Transportation (Norfolk & Western Freight Station), or 122 Campbell Avenue (Roanoke Times) in downtown Roanoke.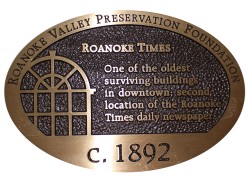 Eligibility:
Eligible buildings must meet all three standards listed below.
National/State Register Status. Is the building a contributing structure to a historic district or individually listed on the National Register of Historic Places and/or the Virginia Landmarks Register? Districts listed as 'eligible' also qualify. Click here to see if your building is within one of the National/State Register districts within our pilot area of downtown Roanoke.
Architectural Integrity. Does the building still look much the way it did in the past? Have alterations to the building maintained its original character?
Location. Is the building within the service area of the Roanoke Valley Preservation Foundation (City of Roanoke, City of Salem, Roanoke County, Town of Vinton, Botetourt County, or Franklin County)? Buildings located in areas with an established plaque program will be referred to the corresponding organization.
Cost:
The cost per plaque is $350 and includes research, production, shipping, regulatory approvals from the locality in which the property is located, and installation.
Questions: